Posted on
Being a vegan might mean going dairy-free, but it doesn't mean you have to miss out on cheese. Whether you're looking for options made from soya, nut or coconut, there are more options than ever before, with some created for Christmas. Here's our round-up of the best:
Caramel Pecan Vegan Creamed Chease: £7.95, Tyne Chease at Yumbles​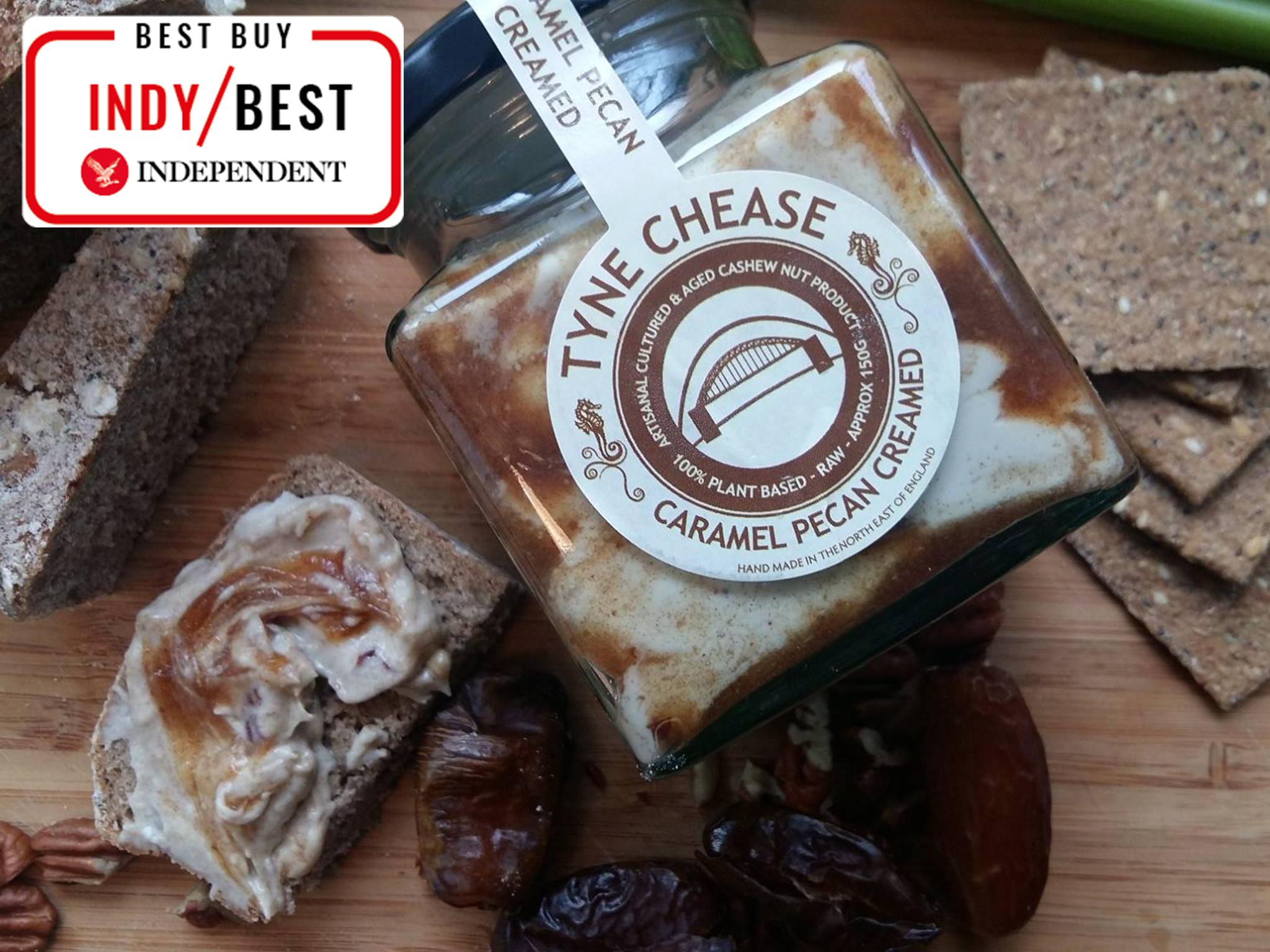 While hard vegan cheeses have been on the market for years, a truly indulgent cream cheese has been tougher for crafters to handle. However, this glass jar of Caramel Pecan Creamed 'Chease' – the first of two entries by family-run artisan company Tyne Chease – comes close to perfection. Organic cashew nuts provide the tangy creamy base whilst the mix of crunchy pecans and syrup-like dates provide complimentary levels of sweetness.
At £7.95, it's a little on the pricey side, but that's expected for a focus on organic and natural ingredients, including probiotics and Himalayan salt). What's more, a four-week shelf life means you can tuck into it well into the new year. Overall, it's the perfect complement to your cheeseboard this festive season.
After Dinner Blueberry Wedge: £2.89, Violife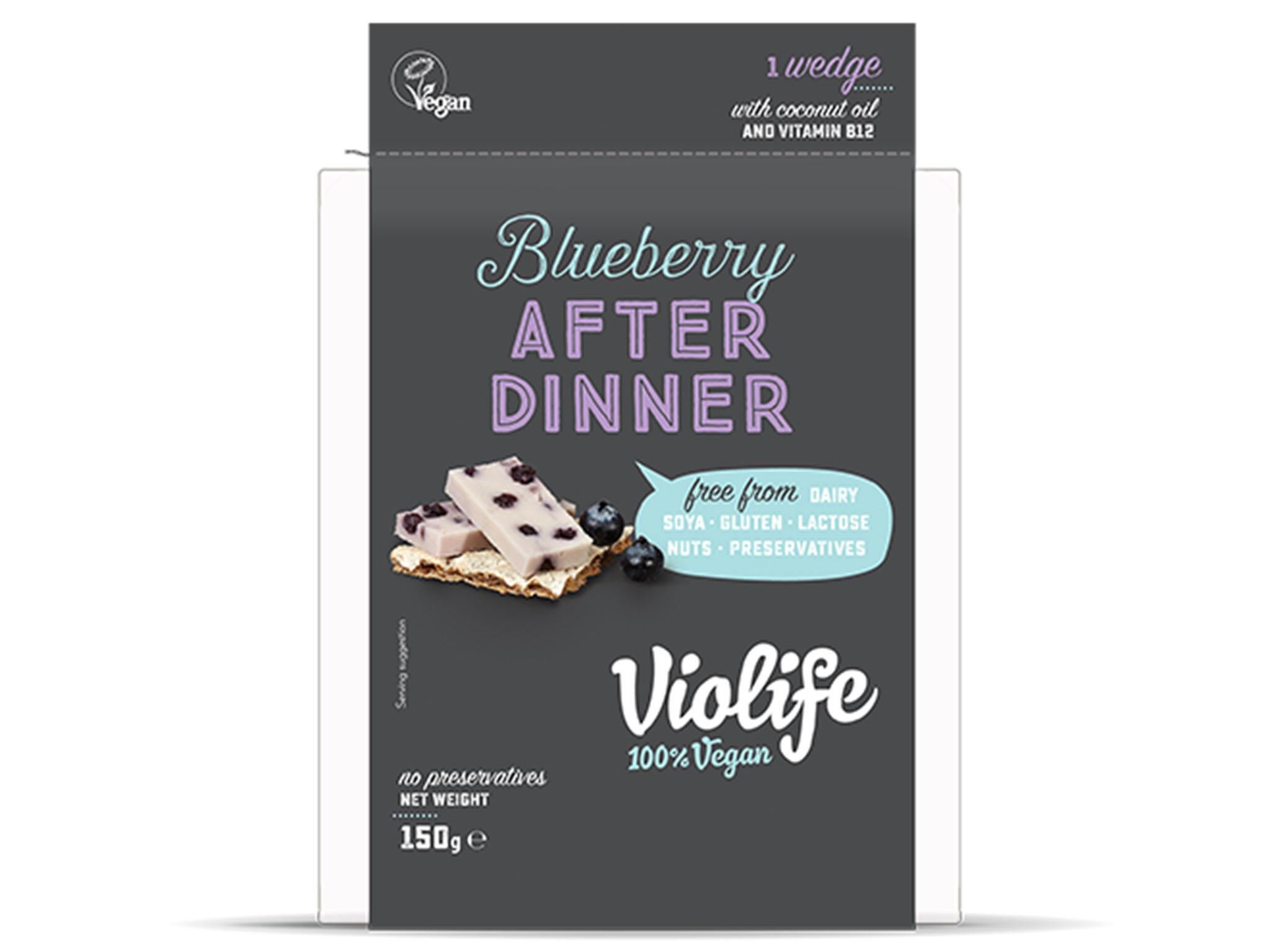 Violife is pretty much the king of vegan cheese: it's been around long before veganism became popular and is known for its wide variety of nut-free, soy-free and dairy-free cheese (coconut oil is the main ingredient).
This after-dinner blueberry wedge is great value for money. It's packed with blueberries – it also comes in a more traditionally festive cranberry variety should you prefer it – and contains added vitamin B12, a much-needed nutrient for many vegans.
It tastes a little dry when sliced, but it comes into its own melted.
The Vegan Cheese Collection Taster Box: £23.40, The Naturally Vegan Food Company at Yumbles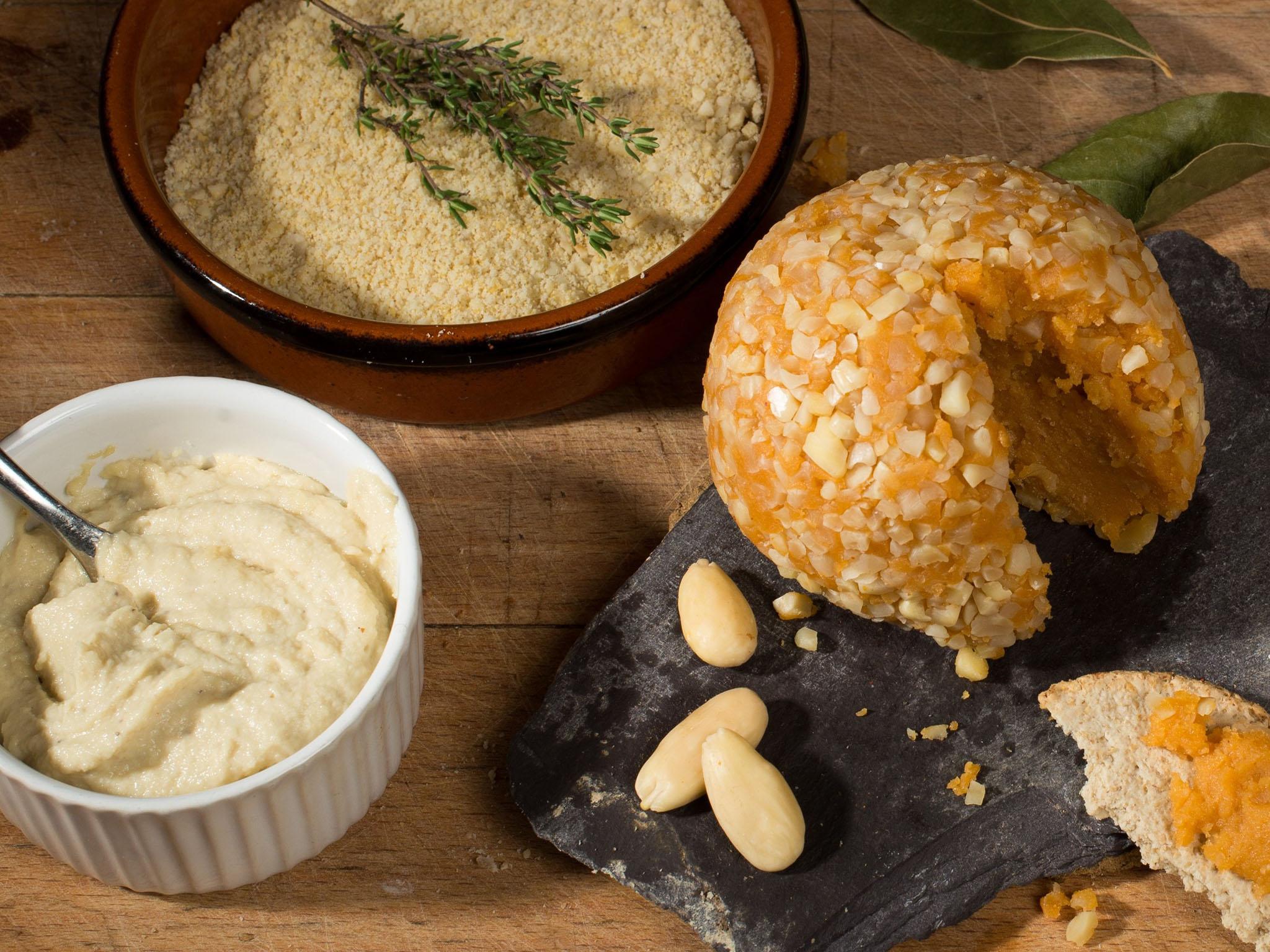 Why have one cheese when you can have four? Northampton-based The Naturally Vegan Food Company has come up with a perfect taster box for your Christmas party. A collection of two generously sized 'cheeze balls' (a smokey paprika infused version and an original – both of which taste convincingly like Cheddar), a creamy cashew spread and an Italian cooking cheese (an excellent replacement for Parmesan, which tastes fantastic sprinkled on pretty much anything). 
The collection is made using organic almonds and cashews; as well as vegan staples such as tofu, cider vinegar and nutritional yeast. Its focus on organic and natural ingredients makes this the perfect choice for health-conscious, vegan foodies this Christmas,
Nush Almond Milk Cream Cheese Style Spread Chive: £2.75, Ocado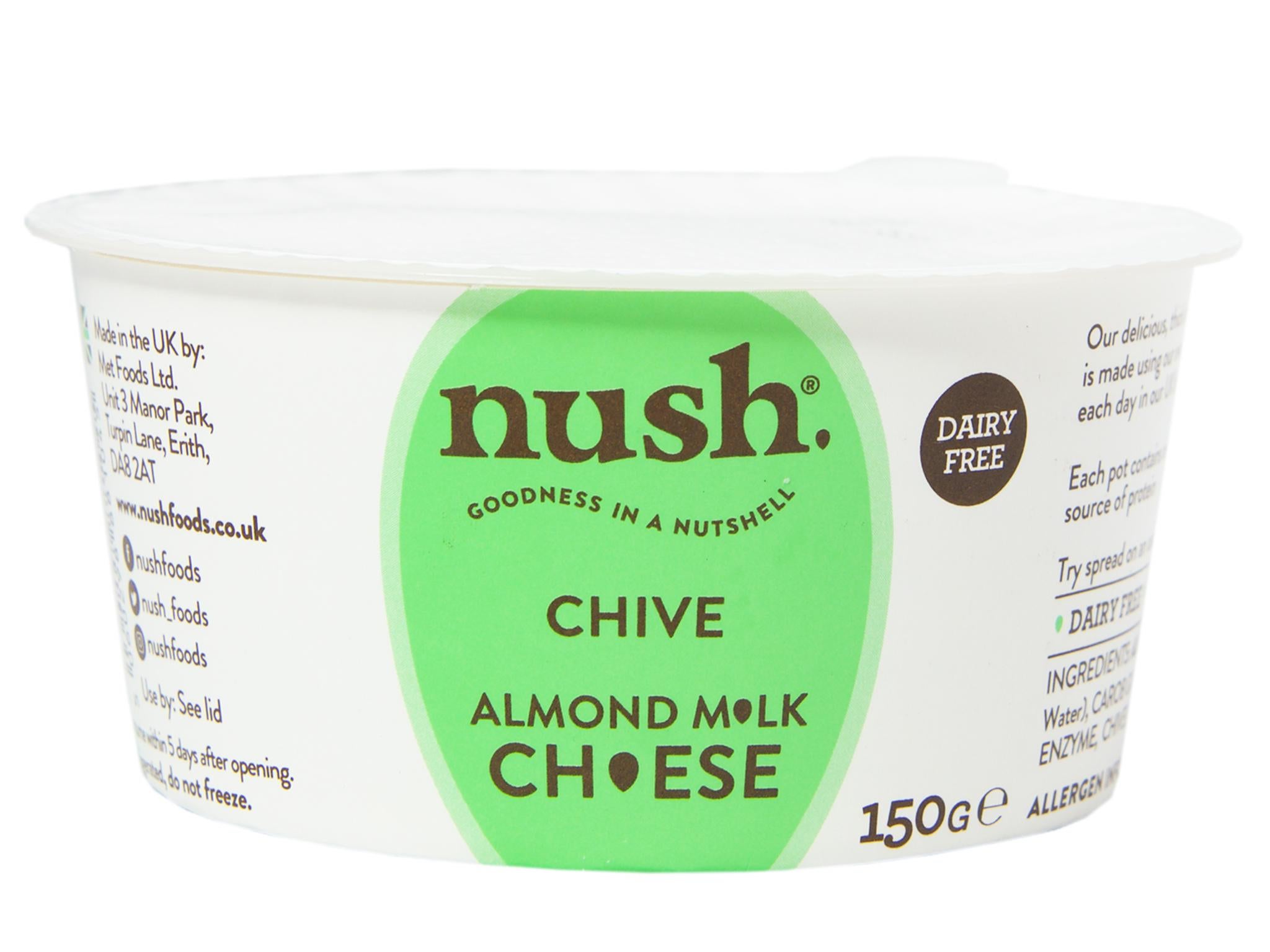 Nush is a relatively new brand of nut-based yoghurts – and its recently added two flavours of cream cheese. Stocked in most major supermarkets, Nush's cheese offering is both affordable (one of the cheapest options in our roundup) and healthy. With 93 per cent almonds, the spread also contains live vegan cultures, something that many vegans miss out on when ditching dairy products).
It also tastes great. It's surprisingly creamy and one of the easiest of our cheeses to spread, making it perfect for your Christmas-morning bagels.
Vegan Cheese Selection Box: £17.09, Tyne and Chease at Yumbles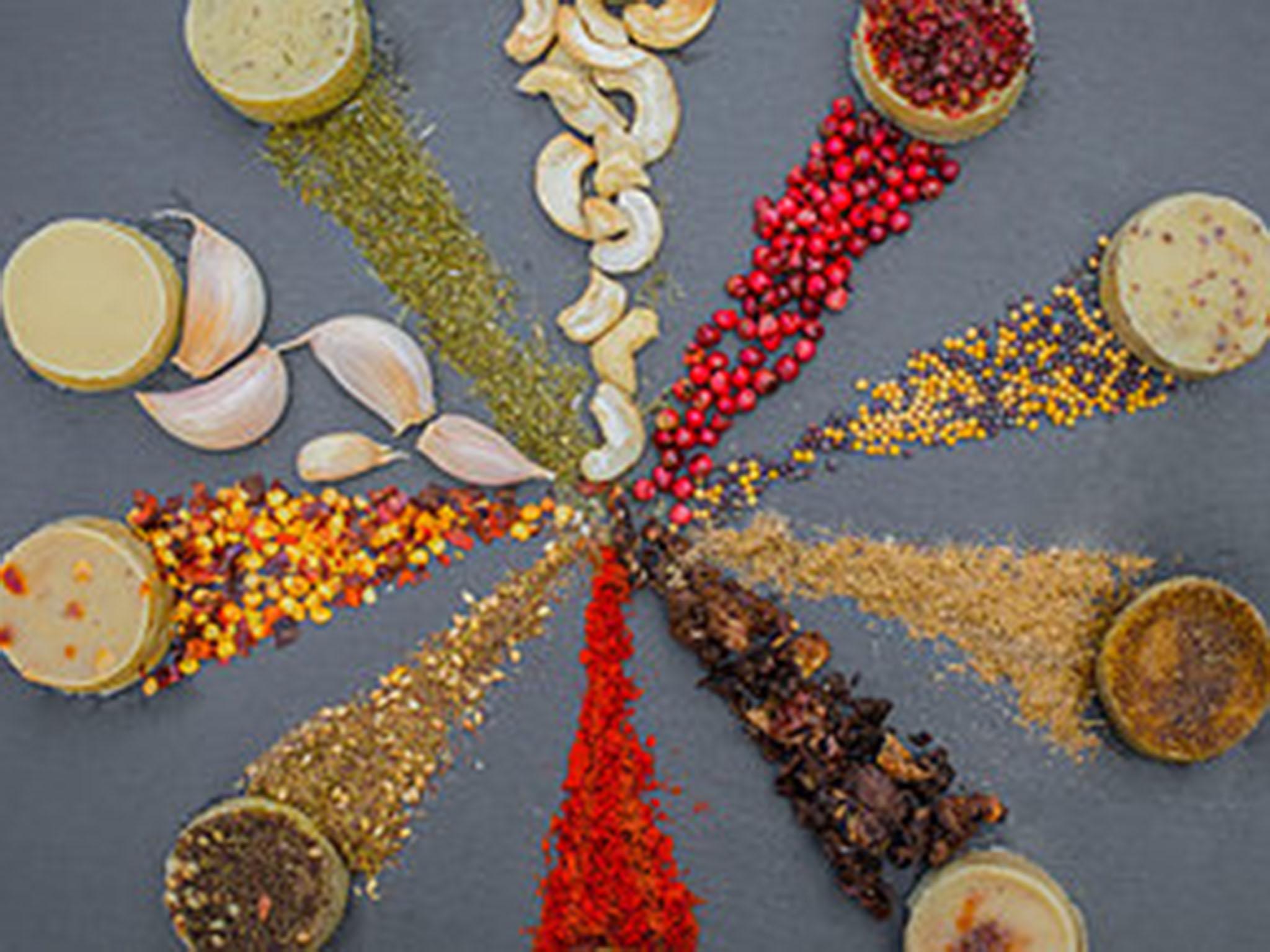 Looking to put on a proper spread? This vegan cheese selection box is for you. It contains 10 mini-cheeses with unusual flavours such as za'atar spice, Ethiopian spice and sundried tomato.
Tyne and Chease delivers on taste. With all these cheeses being made by hand, they taste just as rich and smooth as their dairy-containing equivalents, avoiding the slightly synthetic aftertaste of some cheaper brands.
Add the crackers and throw a party.
Violife Cheeseboard: £5, Asda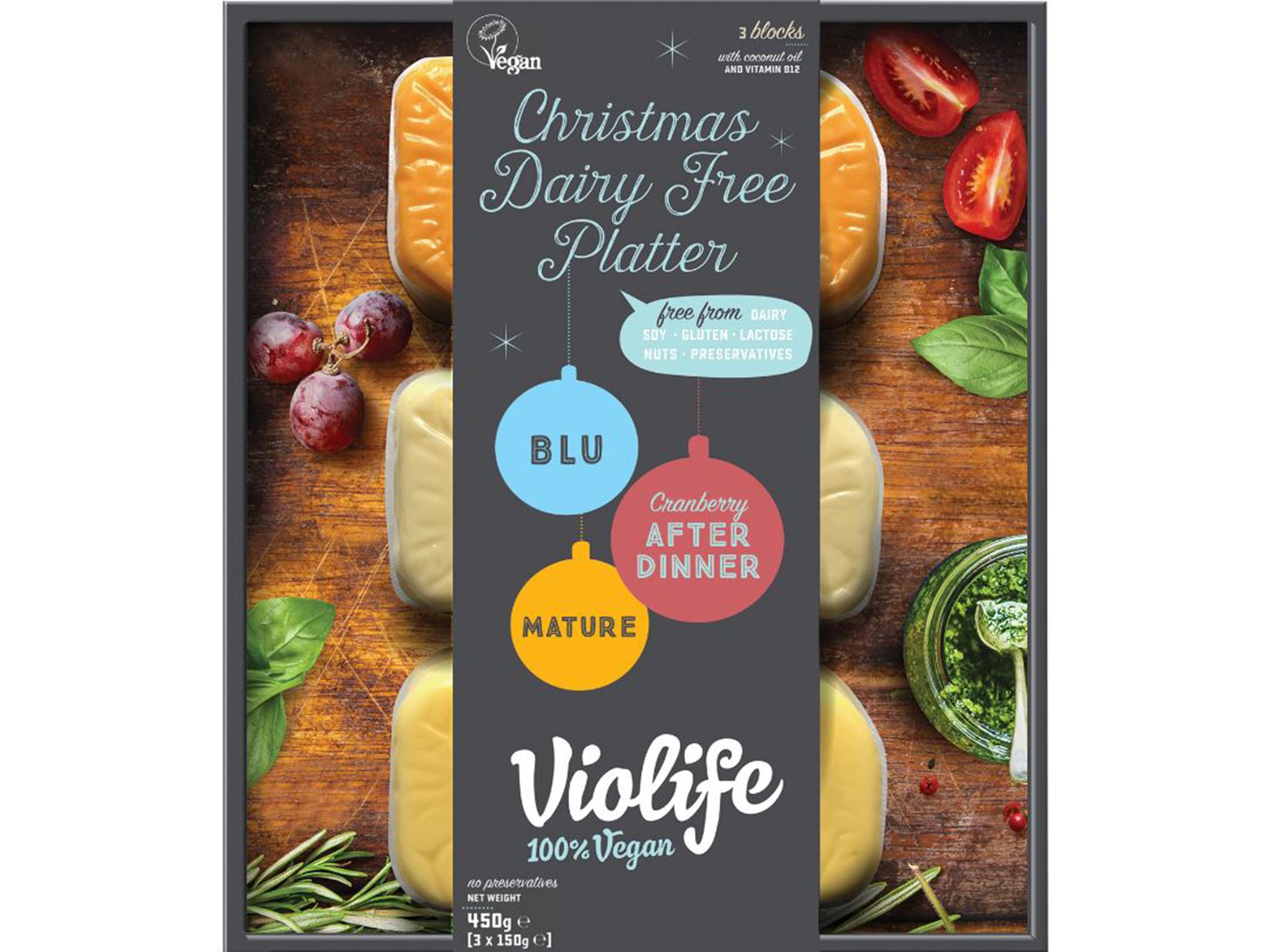 With vegan products previously being restricted to health food shops and online, it's great to see mainstream supermarkets now offering value options, too. And what could be more purse-friendly than a cheeseboard for a fiver?
This cheeseboard combines three of Violife's most popular flavours in 150g portions: the surprisingly meltable mature block (a great all-rounder whatever the time of year and a perfect base for cauliflower cheese); the zesty cranberry wedge and a rich blu wedge. The perfect starter kit for a great vegan Christmas and one of the few cheese brands that are also nut-free.
Cranberry Wensleydale Alternative: £1.75, Asda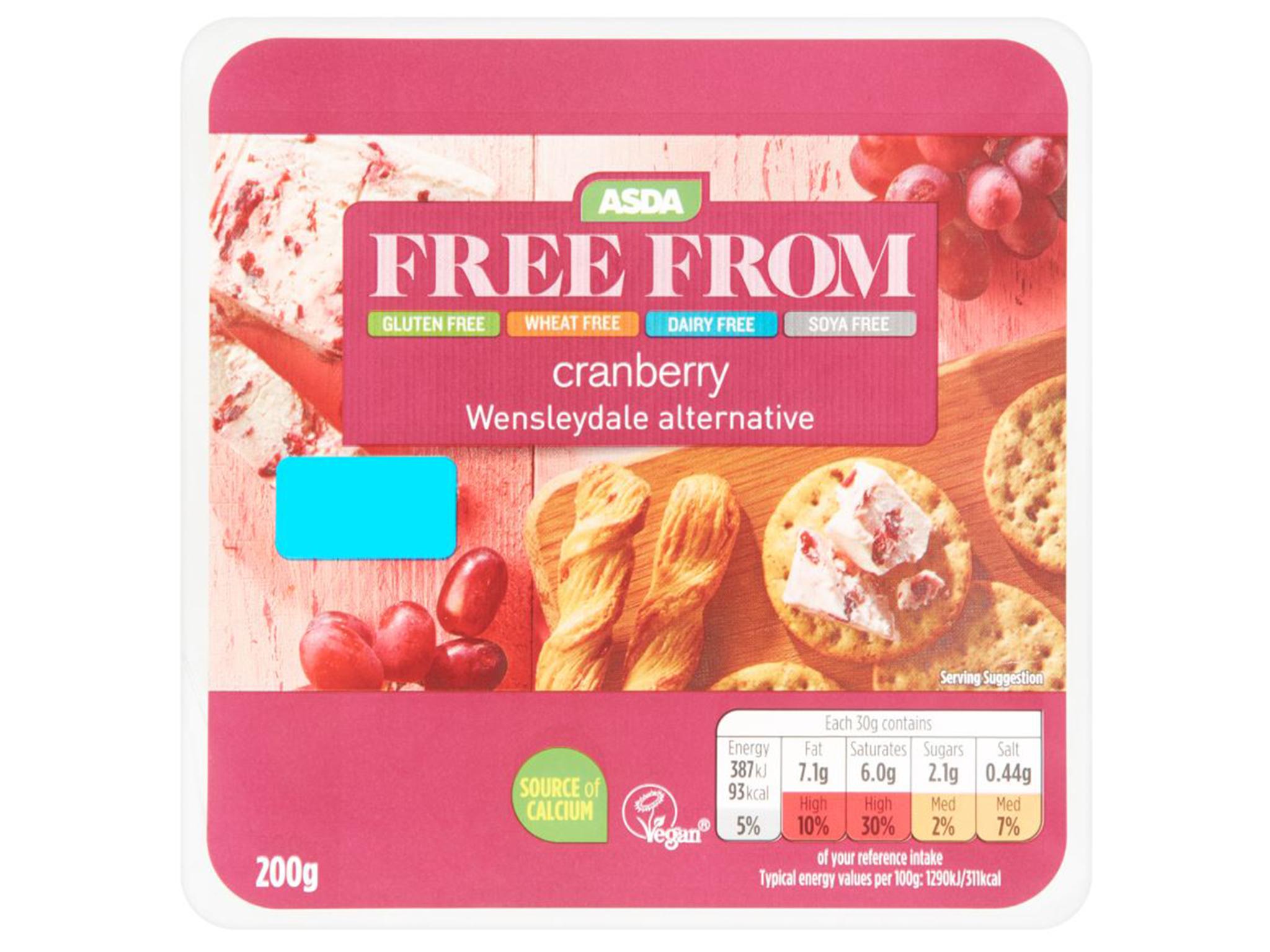 Asda delivers again with its own brand of cheese. This Wensleydale Cranberry Cheese alternative is new this winter, along with a range of other flavours (Cheddar, and garlic and chive).
At £2 for a substantial 200g block, it's the cheapest item in our roundup: yet despite it being a budget buy, it more than delivered on flavour. Upon opening the packet, we were taken in by an authentic, Wensleydale-esque aroma and were impressed by how smoothly it crumbled.
Low-cost doesn't mean low on cranberries either: it combined a generous helping of large cranberry chunks with a smooth, mild Cheddar taste.
The downside is it does rely on some thickeners and regulators not found in some of the handmade choices on our roundup.
But overall, this product delivers on both the price test and taste test.
Vegan Cheese Kit: £32.99, Mad Millie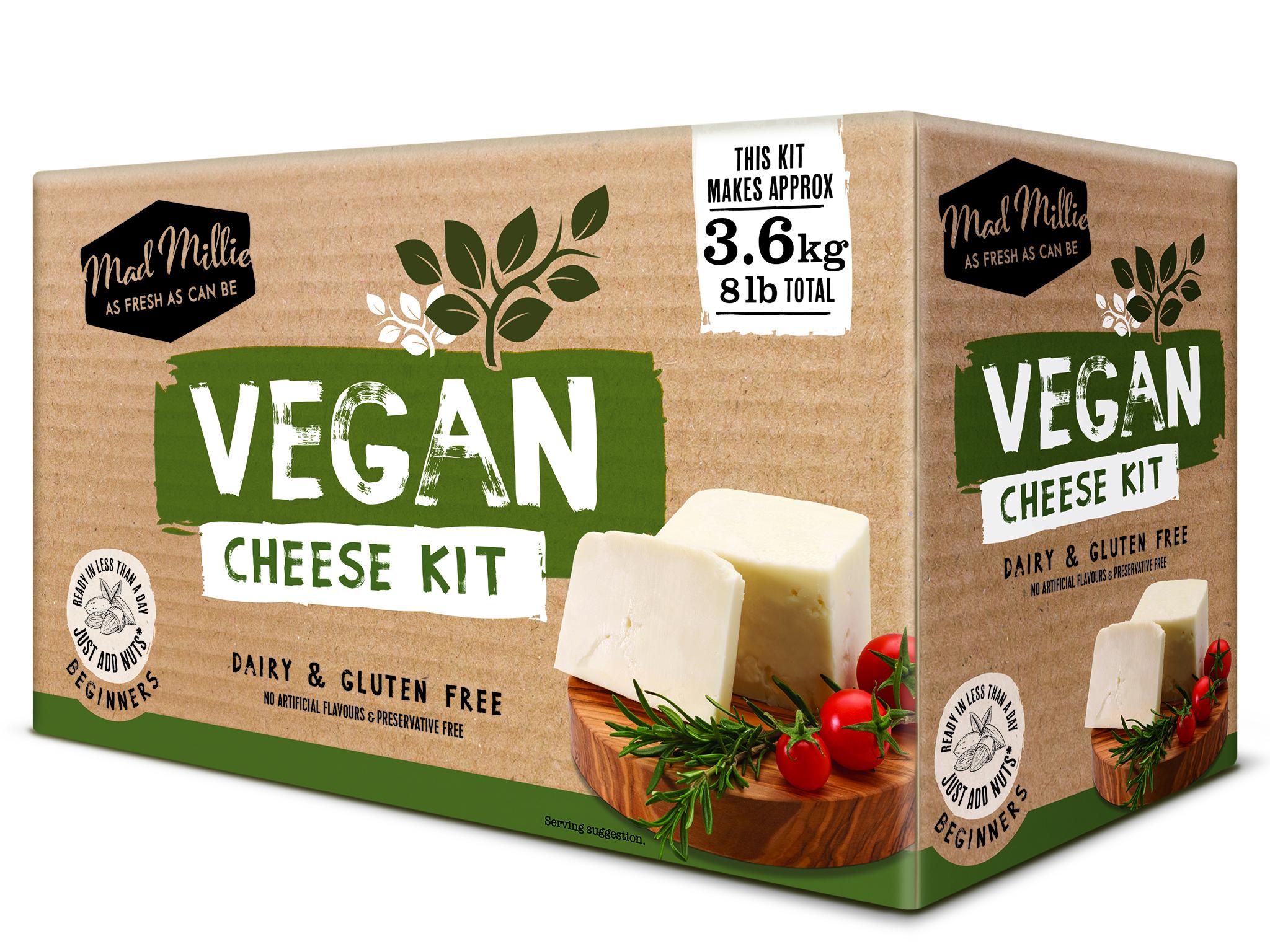 If the above options haven't whetted your appetite, then why not make your own? Mad Millie's Vegan Cheese Kit contains instructions, recipes and equipment to create your individual take on vegan halloumi, cream cheese, feta ricotta, mozzarella and mascarpone.
While it seems daunting at first, you only need a handful of ingredients (usually your choice of nuts, salt, spices and dairy-free milk) and recipes are labelled by their difficulty level.
It's the most expensive option on our list, but if you like to know exactly what goes into your food, struggle with multiple intolerances or want to take your Christmas hostess skills to the next level, then the Vegan Cheese Kit could be for you.
White Cheddar and Cranberry: £6, Kinda Co.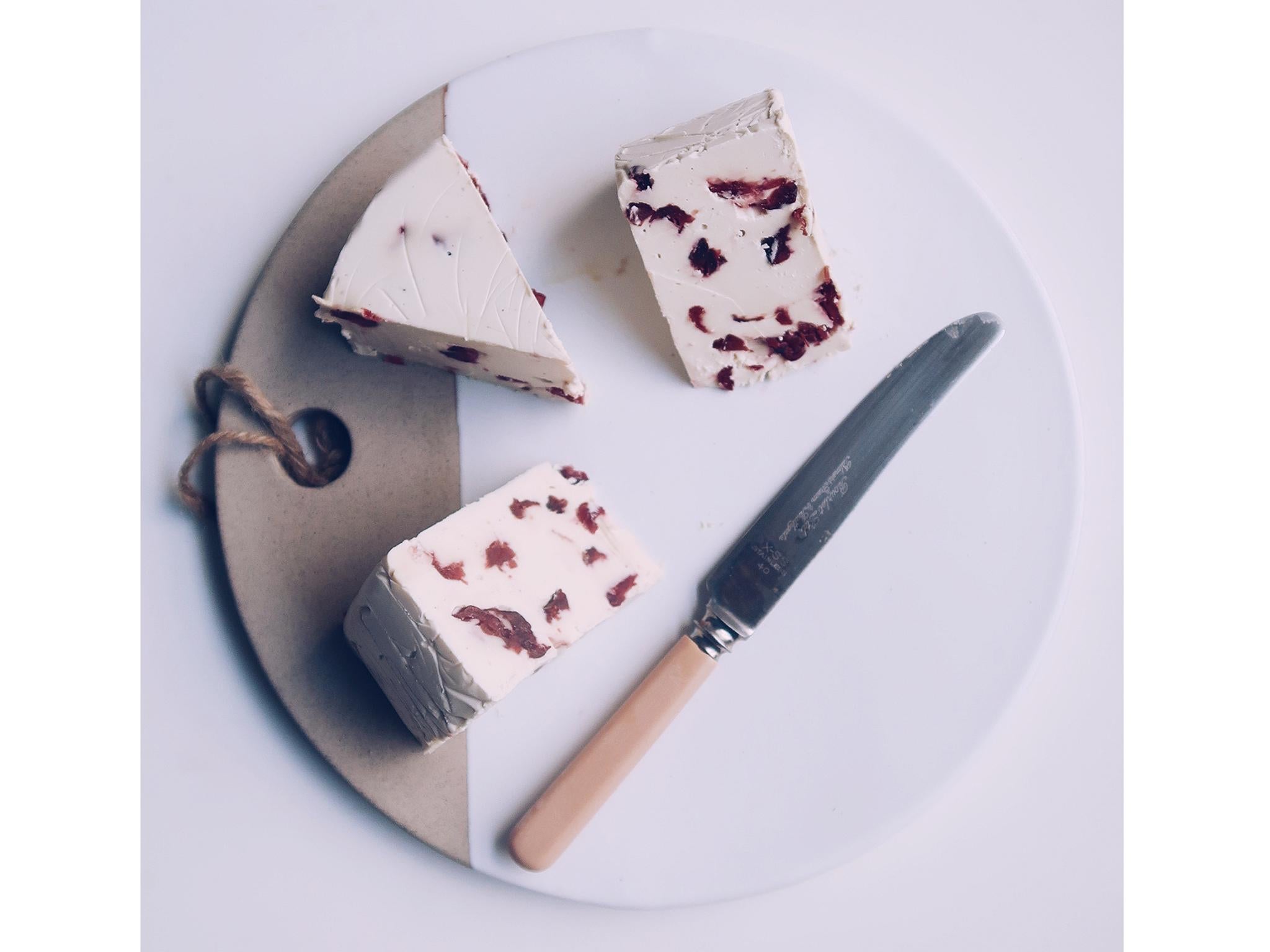 Vegan founder Ellie set out to find the perfect plant-based cheese several years ago, after struggling to satisfy her cheese cravings. The result is Kinda Co: which sells a range of inventive, nut-based cheeses both online and at vegan festivals across the country.
Not only do they focus on healthy ingredients (such as miso, natural cultures and apple cider vinegar), but all items use glass jars and biodegradable wax paper in a bid to cut down on plastic. The white Cheddar and cranberry slice is a new take on a Christmas classic.
White miso gives the cheese an addictive tang, which is perfectly suited to the dried strawberries, while the mixture of cashew nuts and coconut oil creates a creamy base.
If you're planning on making an order, look out for the Faux Lox+Dill Cream cheese variety (£7), which uses fermented carrots as a convincing substitute for smoked salmon.
via independent.co.uk